How to find us
Alana Healthcare's new location is diagonally opposite Peter's of Kensington, near the corner of Goodwood Street.  We are between McCyclery and Anytime Fitness.
Parking
1/4 hour, 1/2 hour and 1 hour, 2 hour and some untimed on street free parking is available on both Goodwood Street and Elsmere Street.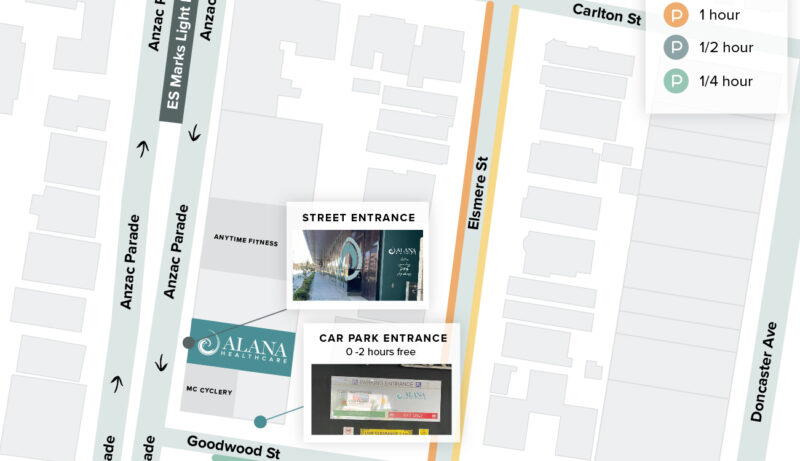 Public Transport
The ES Marks light rail stop is located outside our front door, within a short 100m walk.  There are also plenty of buses that run along Anzac Parade. For details or to plan your trip, please visit Transport NSW.
Special Requirements, Wheelchair and Pram Access
Should you require assistance in anyway to facilitate your visit to our practice, please let us know ahead of time.
If you require a Health Care Interpreter, please contact our reception team by phoning 9009 5255.
Our front door has both stairs and an accessible platform lift for ease of access.
Please call us on (02) 9009 5255 to:
Enquire about or book

an appointment with a Gynaecologist, Physiotherapist or Naturopath

E

nquire about the cost of our services.  You can also view our consultation fees here

U

pdate your details

(existing patients)

E

nquir

e

about an existing or new surgery booking

(existing patients)

Make a general enquiry

, including m

edia/conference/pharmaceutical enquiries
If you are pregnant and you have an enquiry regarding Alana Obstetrics, you can either call us on (02) 9009 5255 or submit an enquiry via the form below
Submit an obstetric services enquiry
This form is for antenatal enquiries only.  For all other enquiries please telephone us.